Remember Amanda Stanton? Former Bachelor contestant and and current Instagram influencer? Yeah, well she's being sued for allegedly failing to Influence us in the right way.
According to TMZ, a luxury boutique called Moonstone Vintage LA claims they gifted Amanda a Chanel purse worth $3,249 in exchange for promoting the store. Which, if you're even vaguely familiar with Instagram, you know is pretty common in the world of influencers. You get free stuff, you talk about how amazing said free stuff is, the cycle continues.
TMZ's sources claim that Amanda requested the Chanel bag last minute before Coachella, and that Moonstone Vintage LA "personally delivered it from Santa Monica to the desert" so she could be photographed with it.
But apparently Amanda didn't initially tag Moonstone Vintage LA on Instagram or even acknowledge that they gave her the bag, so now they're reportedly suing. Oh, and to make matters worse Amanda seems to have kept the bag despite allegedly not holding up her end of the deal. Per TMZ, the store is suing Amanda for $4,996, which is the cost of the Chanel bag as well as shipping and handling.
For what it's worth, Amanda did tag Moonstone a few days after posting, but the store is claiming that's not good enough. Her rep tells TMZ, "There was miscommunication between Amanda and the brand. Amanda didn't have full confidence in what she was advertising, and was trying to negotiate with the brand to cancel the deal. We are working to settle this privately."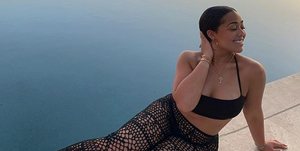 Source: Read Full Article