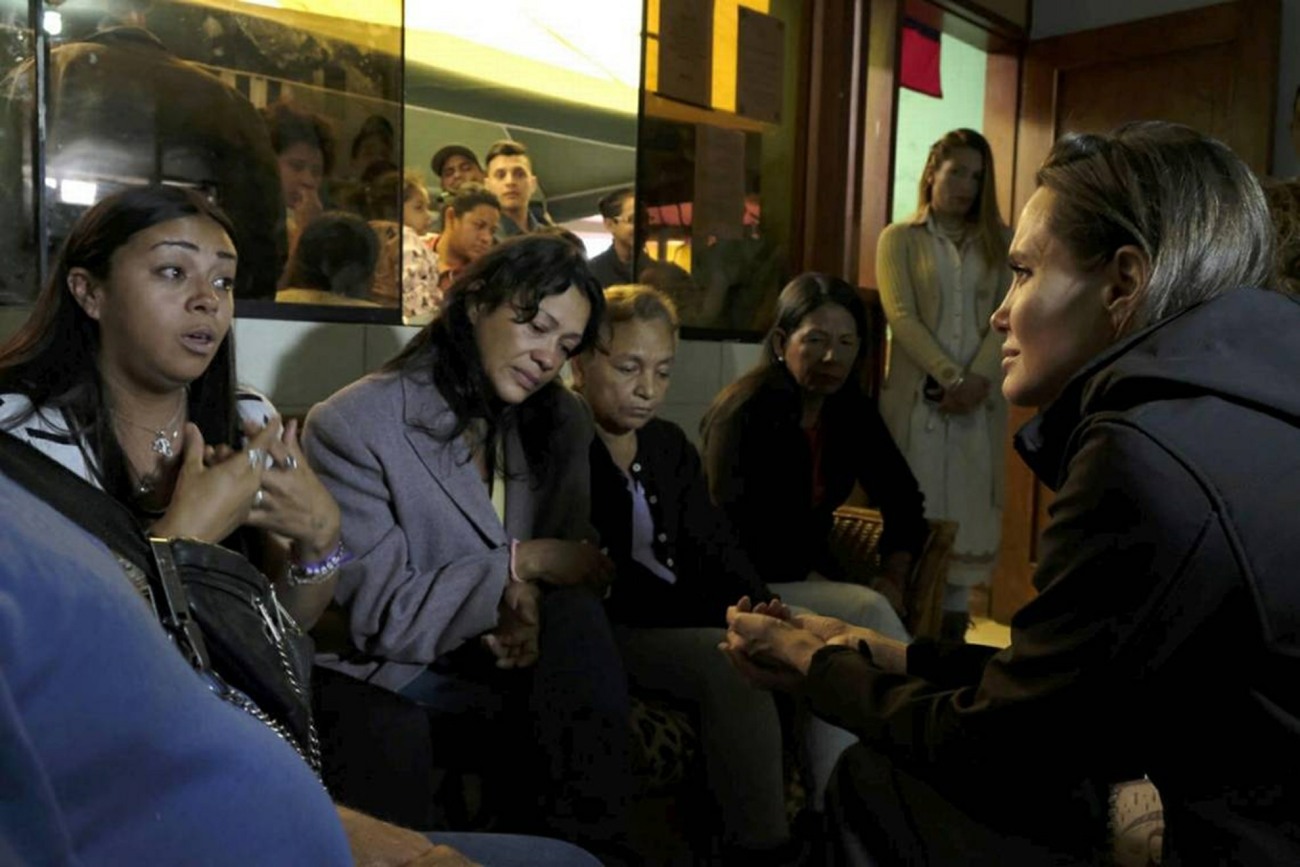 Angelina Jolie was out with three of her kids (Viv, Knox and Pax) in LA over the weekend, but I heard that soon after that little LA pap stroll, she flew out of LA and went down to Peru. Jolie has business in Peru because of her Special Envoy for the UNHCR position, and she wanted to draw some kind of un-Deplorable attention to the growing Venezuelan refugee crisis. Venezuelans are leaving their country in droves and traveling north, south or west in makeshift caravans. Donald Trump has become obsessed with one of these caravans, wielding the racist lie of "brown people are going to invade White America." Peru has been hosting thousands of Venezuelan refugees, and so that's where Angelina went – to see the conditions of the refugee camps, to speak with the refugees and with representatives of Peru's government. She ended up meeting with Peruvian Foreign Minister Nestor Popolizio and doing a joint press conference with him in Lima, at one of the government buildings. Her statement:
"I spent the last two days in Lima and at the border in Tumbes, where thousands of Venezuelans are entering on a daily basis. This region is facing one of the largest mass migrations in its history. The crisis is all the more shocking for being predictable and preventable."
"Every Venezuelan I met described the situation in their country as desperate…None of the Venezuelans I met want charity. They want an opportunity to help themselves. The message that I heard consistently was, 'We didn't want to leave, we had to leave.' After having spoken to so many people, it is clear to me that this is not movement by choice."
In the statement, she describes the drastic changes the refugees have gone through since coming to the new country, like a man who was a lawyer in Venezuela just a few months ago but now works in a t-shirt factory to send money home for his family. "As in nearly every displacement crisis, the countries that have fewer resources are being asked to do the most. I want to thank the people of Peru for their generous and resilient response to this difficult situation."
Jolie then makes the connection to refugee instances happening not just in Venezuela and Peru, but around the world. According to the release, 68.5 million people have been displaced worldwide, with one person being forcibly displaced every two seconds due to persecution or conflict in the area. She calls on others to get involved in the global issue by ensuring the correct systems are in place for those struggling with such situations. "Most of all, wherever we live, we need our governments to do more to address the conflict and insecurity that is creating refugees, so that people can return to their countries. In my experience the vast majority of refugees want to do just that: they want to return home."
"I have been deeply touched by the dignity and strength of the Venezuelan refugees I have met on this visit, and by the warmth and generosity of the Peruvian people. Thank you very much for welcoming me to your beautiful country. Tu causa es mi causa."
[From E! News]
"Tu causa es mi causa" is "Your cause is my cause." She's absolutely right about the countries with already struggling economies and struggling infrastructures being asked to do the most in refugee crises. For all of Trump's bitching and moaning and racist fearmongering, the truth is that the one caravan he's currently obsessed with is just a drop in the bucket of the ongoing Latin/South American refugee crisis. Mexico, Peru, Brazil, Ecuador and Colombia are all struggling to deal with the influx of thousands of refugees too. I'm not going to pretend to have the answers to these problems, and Angelina doesn't have the solutions either – she's just trying humanize the problem so that the racist rhetoric isn't the only thing people are hearing. One thing I do know is that the answer isn't "cutting off aid to countries hosting refugees and throwing refugees in cages on the border."
Embed from Getty Images
Embed from Getty Images
Embed from Getty Images
Photos courtesy of Getty, Backgrid.
Source: Read Full Article