The 'Easy on Me' songstress is photographed rocking a mysterious gold band on that finger when leaving a studio in west London during her return to the U.K. for her first show in the city in 4 years.
AceShowbiz –Adele and Paul Rich may not wait too long to make their relationship official. Three months after they were romantically linked to each other, they are now reported to have possibly been engaged.
The engagement rumors sparked after Adele rocked a mysterious ring on that finger. The British singer was spotted wearing the new gold band on her left ring finger when she exited a studio in west London on Friday, November 5.
In photos obtained by Daily Mail, the 33-year-old flashed the ring as she fixed her black face mask. The Grammy Award-winning artist bundled up in a black coat while carrying a red Fendi Peekaboo handbag and an iPad during the outing. Her blonde hair was let down and hang on her shoulders as she completed her look with black heels.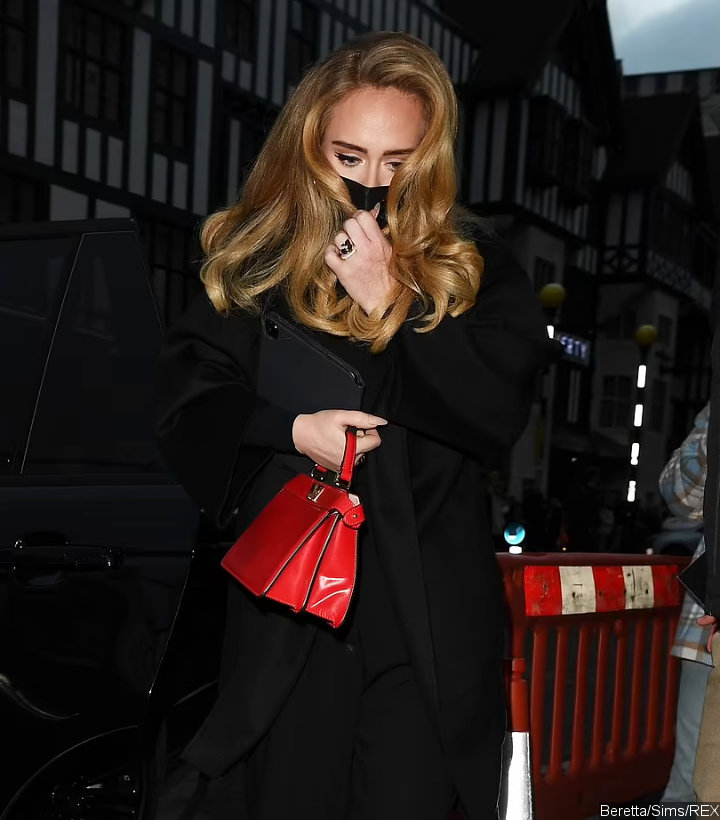 Adele sported a new ring while exiting a studio in London.
Just hours before being spotted at the studio, Adele had a dinner date with her boyfriend Rich at Chinese restaurant Kai in London's Mayfair. It marked the first time the pair were seen in the U.K. together since they started dating.
Adele returned to her homeland of the U.K. to hold her first concert since 2017 in London. The "Easy on Me" songstress performed at the London Palladium on Saturday, with her sports agent beau among the audience.
Famous fans, including Beyonce Knowles, Idris Elba, Dua Lipa, Emma Watson, Olly Alexander, Naomi Campbell, former Spice Girls star Mel B a.k.a. Melanie Brown, Stormzy, Boy George, David Tennant, Bryan Cranston, Samuel L. Jackson and Canadian "Schitt's Creek" actress Catherine O'Hara. also turned out for the big night.
The show was filmed for an ITV special titled "An Audience with Adele", which will be broadcast on 21 November. An Audience With Adele is going to be the starriest show on screen this year "They've invited some of the biggest names in music and celebrity to be part of the event," a source told the site.
Adele and Paul started dating in July. They made their relationship Instagram official back in September.
Source: Read Full Article