If you are living for all the juicy celebrity couple drama this fall, welcome to the main event: Halloween. Spooky season has delivered heartbreak and hookups at lightning fast speeds (seriously, we need a timeline just to follow Miley's relationship status).
It's no coincidence that Halloween falls right on the cusp of cuffing season, otherwise known as the perfect excuse for celebs to DTR with their flings, debut new plus-ones, and/or put a label on those situationships that, ahem, may or may not be a publicity stunt (hi, Shawmila).
Lucky for all of you who are equally as confused about certain celebs' relationship statuses as we are, we spoke with body language expert Karen Donaldson to determine which couples are doomed, and which you should get ready to ship, based off of their Halloween Insta pics. Apologies for all of you Hannah B. and Alan stans…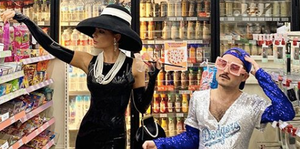 Halsey and Evan Peters
Double, double, toil and trouble: Twitter's favorite new couple Halsey and Evan Peters stepped out, not once, but twice this Halloweekend in coordinating costumes. The singer and the American Horror Story star attended the AHS 100th Episode Celebration as '70s sweethearts Sonny and Cher in matching satin polka-dot ensembles.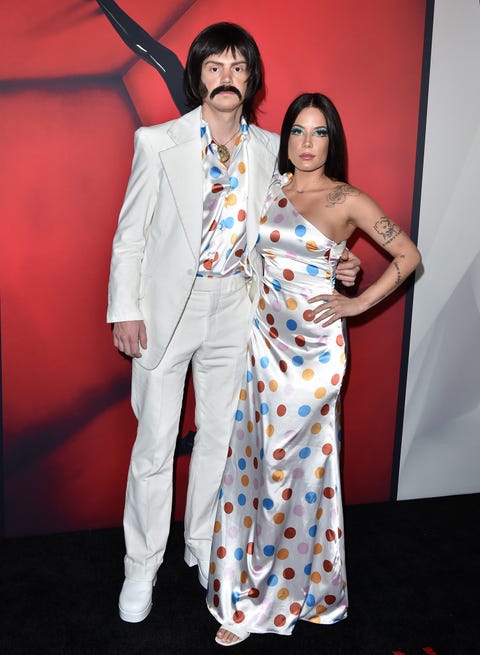 Although Emma Roberts—Peters's ex-fiancé and AHS co-star—was also in attendance, the couple seemed comfortable during their first joint appearance. "They are showcasing we are one, completely unified front," says Donaldson. "Their pose indicates power couple confidence."
The couple also attended Halsey's Almost Famous Halloween party as "resident goths," with Halsey recreating Marilyn Manson's 1998 Mechanical Animals cover and Peters opting for an Insane Clown Posse look, complete with face paint and an ICP jersey—which Halsey was seen leaving the event in.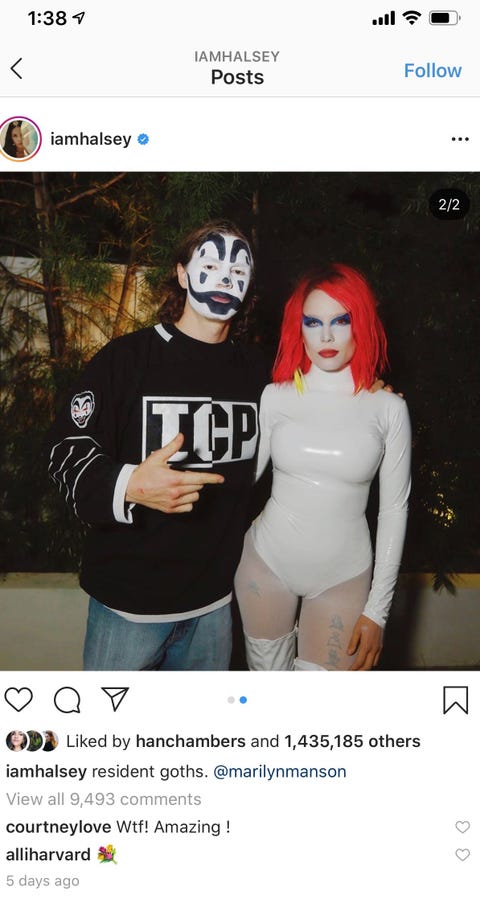 However, their posture here could spell trouble for the two. "The physical gap in between the two of them and their body posture signals distance between them on a relational level," says Donaldson. While this could totally be situational (who hasn't felt like bailing on a costume party?), it may indicate a fight or one partner not really wanting to be there. We're still rooting for you, Halpeat!
Hannah Brown and Alan Bersten
Has The Bachelorette's pageant queen found her dancing king? Okay, but for real, we *need* to know what's going on with these two ASAP. Since they first hit the dance floor on Dancing with the Stars, fans have been speculating that the partners are secretly dating.
https://www.instagram.com/p/B4OGmQ8nnIo/
Based on their body language alone, it looks like Hannah has not handed out her last rose. While their silly and stoic pose shows that the pair has a good time together, the angling of her body and the space between them indicates a lack of romantic chemistry.
"Although she has her hand around him, she has chosen not to pull him close, which is a non-romantic gesture," says Donaldson. Does this mean we can start hoping for a Hannah and Tyler reunion??
Dean Unglert and Caelynn Miller-Keyes
After leaving Bachelor in Paradise to ride off into the sunset (aka Dean's live-in van), the couple has been sharing snapshots of their life on the road via Instagram. For Halloween, the pair pulled a switcheroo, with Caelynn channeling some major "dirtbag" vibes, and Dean going full-on glam for a "beauty queen" getup. Opposites…attract?
While fans were skeptical that their romance would last post-Paradise, their costume choices indicate that "they don't have power struggle issues in their relationship" and that they "have a high level of comfort with one another," says Donaldson.
https://www.instagram.com/p/B4IFHl8H2S6/
"The elements they chose to highlight with each other clearly showcase that there is no dominance from either partner, no one leader in the relationship," Donaldson adds.
Although we were robbed of a Fantasy Suite date, their hand placement and tilted heads indicate that Caelynn and Dean's sex life is super steamy, says Donaldson. Shout out to these two for keeping it hot in the bedroom… or should I say van?
Vanessa Hudgens and Austin Butler
Seven years strong, Vanessa Hudgens and Austin Butler served ghoulish looks this Halloween, taking on the Nightmare Before Christmas's Sally and Jack. The couple made their relationship red carpet official back in 2012 at the premiere of Hudgens' film, Journey 2: The Mysterious Island, and have a proven track record of dressing up during spooky season.
https://www.instagram.com/p/B4IqIYjBvp7/
"With Vanessa's body turned towards Austin, it tells us that she wants to be as close to him as possible," says Donaldson. "Austin's hand is placed lightly on her waist; She's not resisting his touch and his hold is not controlling." Not surprising, the couple's body language overtly signals mutual care and respect from both parties.
Aaaand with plenty of time left for spooky Halloween Instagrams still comin', we'll just be sitting back, devouring Kit Kats, while we overanalyze all these spicy couple's posts. Happy scrolling, y'all!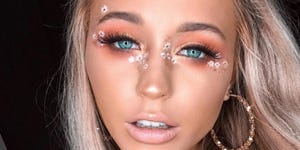 Source: Read Full Article